In 1831, NYU was founded

. The same year,
states

outlawed Blacks from reading and writing

.
Slavery was abolished 25 years later.
"
Any person or persons who shall attempt to teach any free person of color, or slave, to spell, read, or write, shall upon conviction thereof of the indictment be fined in a sum not less than $250." ($250 equates to about $7,600 today)
-
1833, an Alabama law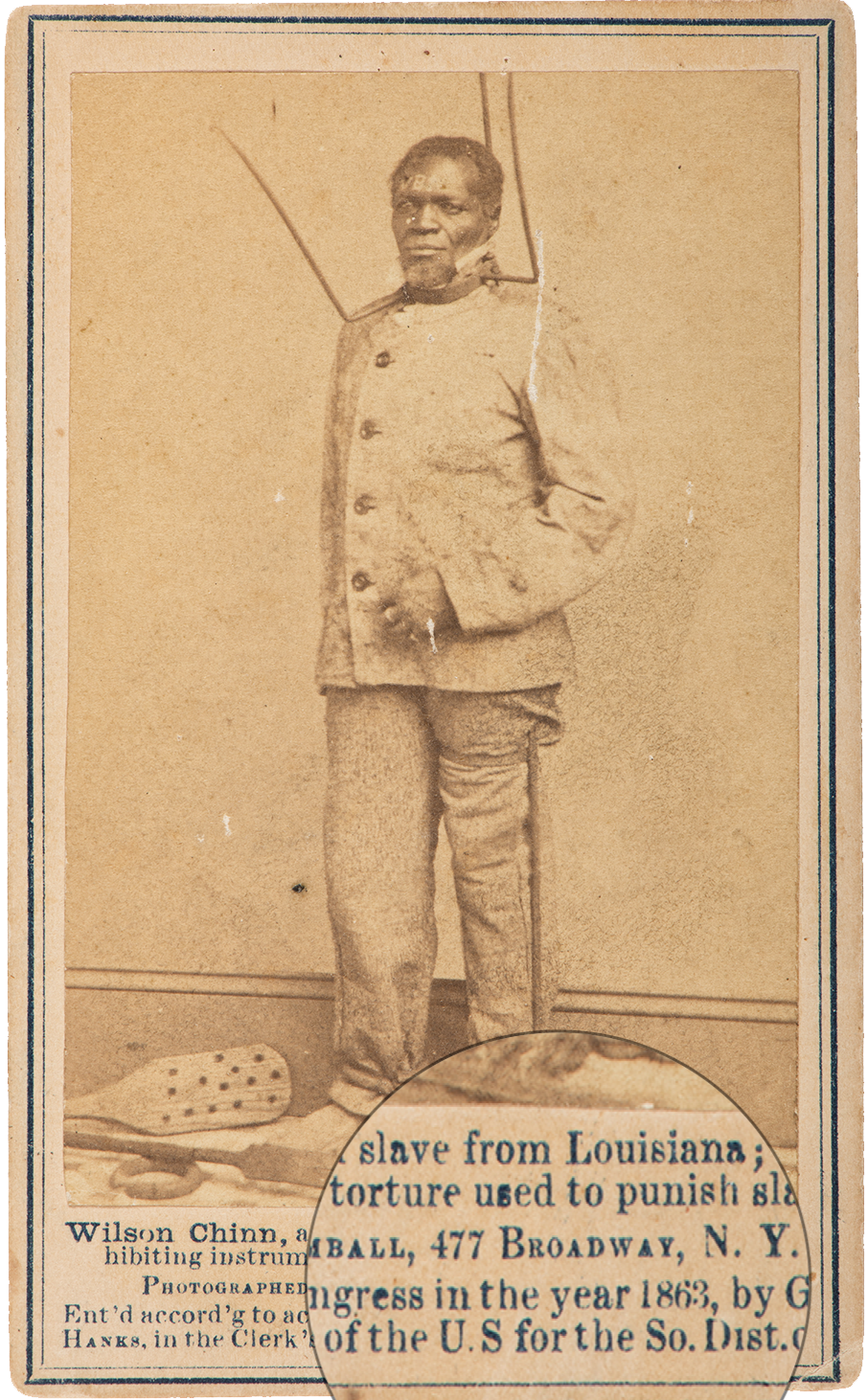 In 1863, at 477 Broadway, New York, NY, Wilson Chinn, a former enslaved person, was photographed with instruments of torture used on enslaved people.
The image intended to utilize the medium of photography to illustrate the depths of brutality existing in American slavery.
NYU's campus is less than 1 mile from where Wilson Chinn's photo was taken.
Demographic Trends :
Despite
NYC's 24.3% Black population,
Black students always account for less than 9% of NYU's student body.
In 2018, NYU's total Black student population was at 3,185, 6% of all students at NYU.
This single digit percentage remains despite a world-class community of extraordinary Black faculty and alumni including
Ralph Ellison, Sonia Sanchez, Spike Lee, Ta-Nehisi Coates, Bryan Stevenson, Manthia Diawara, Mahershala Ali, Donald Glover, and MacArthur Genius Recipients Deborah Willis (00') and Fred Moten (20').
The Cost Black Communities Pay NYU :

2,317 Black students (7.8% of all students) paid $127,156,960 in tuition altogether.
In four years, this cohort will pay or borrow $503,627,840 in tuition to NYU.
Significant financial resources are extracted from a marginalized, disadvantaged, community to further enrich NYU.
Since 2020, U.S. lawmakers have passed six major bills costing $5.3 trillion with no significant student debt relief. To date, Biden has canceled $3 billion in student debt or 0.17% of the total debt.
In President Biden's $6 trillion budget proposal, he omitted student debt-forgiveness.
Endowment Growth, Investing in Black Futures :
There is a historic opportunity to set a standard of accountability and material investment, and to close the racial wealth gap.
Actioning No Black Student Debt :

Rectifying the Past :

A lump-sum payment to erase outstanding student debt burdens of Black NYU alumni. Qualifying alumni with outstanding loan burdens would be responsible for contacting NYU to have their balances relieved.
Investing in the Future :

Enact a racial justice and economic equity policy for full tuition remission for Black students of NYU. This waiver of tuition, eliminates Black students as a revenue source for NYU.